you are here: location >>
you can go to: GENERAL

(11)

Africa

(14)

America

(141)

Asia ; middle East

(80)

Australia ; Oceania

(7)

Eastern Europe ; Russia

(351)

Western Europe

(800)

World

(23)
you are looking for: information >>
get more precise: accommodation

(1253)

cityinfo

(131)

transportation

(81)
result pages: 0 10 20 30 40 50 60 70 80 90 100 110 120 130 140 150 160 170 180 190 200 210 220 230 240 250 260 270 280 290 300 310 320 330 340 350 360 370 380 390 400 410 420 430 440 450 460 470 480 490 500 510 520 530 540 550 560 570 580 590 600 610 620 630 640 650 660 670 680 690 700 710 720 730 740 750 760 770 780 790 800 810 820 830 840 850 860 870 880 890 900 910 920 930 940 950 960 (970) 980 990 1000 1010 1020 1030 1040 1050 1060 1070 1080 1090 1100 1110 1120 1130 1140 1150 1160 1170 1180 1190 1200 1210 1220 1230 1240 1250 1260 1270 1280 1290 1300 1310 1320 1330 1340 1350 1360 1370 1380 1390 1400 1410 1420
matched links:
Paraiso Travellers Hostel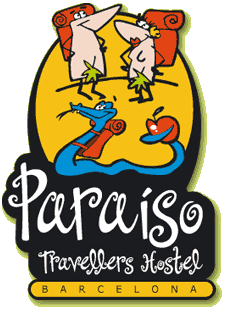 We offer a friendly, intimate and relaxing atmosphere. The hostel is ideally located in the centre of Barcelona, within walking distance to all major tourist attractions, museums and the busy nightlife area. The area is surrounded by 3 Metro stations and you can also find many services such as a post office, pharmacy, supermarket and several banks with ATM machines. Also nearby are various types of food available in the neighbourhood's numerous restaurants and bars. Our multilingual staff will help you providing all the information that you need. Accommodation is offered in 2, 4 and 6 beds. Most of the rooms have ensuite shower and toilet facilities. We also have private rooms to offer at a very moderate price, with doubles and twins, with or without showers in the room. All rooms have TV. CHECK-IN from 9 AM till midnight. There is NO CURFEW and NO LOCK-OUT so you can stay out as late as you want and sleep in as long as you like. This is a great place for making friends with the opportunity to enjoy all the sights Barcelona has to offer.
Barcelona Mar Hostel

Sant Pau 80
08001 Barcelona
Spain

Right in the Heart of Barcelona OUR 3 HOSTELS, create a genuine triangle, very close to each other and: Les Rambles,Plaza Catalunya, Barrio Gothic & Barceloneta.
La Ciutat Hostel

c/ Alegre de Dalt 66
08024 Barcelona
Spain
Itaca Hostel

c/ Ripoll 21
08002 Barcelona
Spain
Hostal Fernando

c/ Ferran, 31
08002 Barcelona
Spain
Hello BCN Hostel

c/ Lafont 8-10
08004 Barcelona
Spain
Backpackers BCN

Diputacion, 323 ppal. 1
08009 Barcelona
Spain
Abba Youth Hostel

Passeig de Colom, 9
08002 Barcelona
Spain

UNBELIEVABLE BARCELONA AIRPORT CONNECTION: Train L-10 directly to station join to Hostel every 30 minutes MAXIMUM AGE 30 YEARS. NO CHILDREN. FIRST OFFICIAL HOSTEL OF TOURIST OFFICE AND GOVERNMENT LIST. NOT ALL HOSTEL ARE OFFICIAL IN BARCELONA AND THEY DON'T COVER YOUR MONEY SO CHECK THE LIST IN TOURIST OFFICE, AND NO PROBLEM. NO DRINKING ALCOHOL IN HOSTEL. NO REFUND MONEY.
Nathan's Villa Hostel Warsaw

ul. Piekna 24/26
- Warszaw
Poland
Jump Inn Hostel

Prokuratorska 2
- Warszaw
Poland