you are here: location >>
you can go to: GENERAL

(11)

Africa

(14)

America

(141)

Asia ; middle East

(80)

Australia ; Oceania

(7)

Eastern Europe ; Russia

(351)

Western Europe

(800)

World

(23)
you are looking for: information >>
get more precise: accommodation

(1253)

cityinfo

(131)

transportation

(81)
result pages: 0 10 20 30 40 50 60 70 80 90 100 110 120 130 140 150 160 170 180 190 200 210 220 230 240 250 260 270 280 290 300 310 320 330 340 350 (360) 370 380 390 400 410 420 430 440 450 460 470 480 490 500 510 520 530 540 550 560 570 580 590 600 610 620 630 640 650 660 670 680 690 700 710 720 730 740 750 760 770 780 790 800 810 820 830 840 850 860 870 880 890 900 910 920 930 940 950 960 970 980 990 1000 1010 1020 1030 1040 1050 1060 1070 1080 1090 1100 1110 1120 1130 1140 1150 1160 1170 1180 1190 1200 1210 1220 1230 1240 1250 1260 1270 1280 1290 1300 1310 1320 1330 1340 1350 1360 1370 1380 1390 1400 1410 1420
matched links:
Hostel Ryba

Rybařska 5
38101 Cesky Krumlov
Czech Republic
Travellers Hostel

Your hostels in the city center of Praha, Cesky Krumlov and Brno
Sleep Well

23 rue du Damier
B 1000 Bruxelles
Belgium
Charlie Rockets

19 hoogstraat
8000 Brugge
Belgium
Antwerp Backpacker Hostel

Langstraat 83
2000 Antwerpen
Belgium
New International Youth Hotel

Have an amazing holiday in Antwerp, Belgium. We awaits you, offering the best service, an excellent buffet-style breakfast and unbeatable low prices.
Alibi Hostel Vienna

Perfectly located Vienna's Downtown Hostel: cosy twins and triples as well as beds in small dorms. Welcome to Alibi Hostel! We are Inside the Vienna's Guertel, in a calm and silent street, only an 8-minute walk to the Ring. Our rooms are clean and sunny, well equipped with closets wardrobes and bathrooms. There are no bunk beds! Internet access and kitchen to your disposal – both free of charge, travel desk, elevator and reception 24h ...we have all that and so much more! Our multilingual staff is always happy to provide you with all the info you need. Go and ask them. They'll point out for you the must see places and monuments, the best restaurants and all the greatest pubs, bars and discos in the city. Go and enjoy your day in this spectacular capital! And after a long day you're more than welcome to relax in our comfortable common room, have a drink, play tablesoccer, watch DVD and swap stories with the staff and other backpackers.
Hostel Ruthensteiner

We want to make you feel welcome and at home while discovering the beautiful city of Vienna!
Believe It Or Not

10 myrthengasse apt14
1080 Vienna
Austria
Muffin Hostel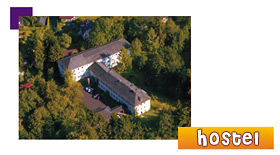 Muffin is the brand-new hostel in the city listed as UNESCO World Heritage Site. Run by young yet experienced staff is there to make your stay in Salzburg an unforgettable one.