you are here: location >>
you can go to: GENERAL

(11)

Africa

(14)

America

(141)

Asia ; middle East

(80)

Australia ; Oceania

(7)

Eastern Europe ; Russia

(351)

Western Europe

(800)

World

(23)
you are looking for: information >>
get more precise: accommodation

(1253)

cityinfo

(131)

transportation

(81)
result pages: 0 10 20 30 40 50 60 70 80 90 100 110 120 130 140 150 160 170 180 190 200 210 (220) 230 240 250 260 270 280 290 300 310 320 330 340 350 360 370 380 390 400 410 420 430 440 450 460 470 480 490 500 510 520 530 540 550 560 570 580 590 600 610 620 630 640 650 660 670 680 690 700 710 720 730 740 750 760 770 780 790 800 810 820 830 840 850 860 870 880 890 900 910 920 930 940 950 960 970 980 990 1000 1010 1020 1030 1040 1050 1060 1070 1080 1090 1100 1110 1120 1130 1140 1150 1160 1170 1180 1190 1200 1210 1220 1230 1240 1250 1260 1270 1280 1290 1300 1310 1320 1330 1340 1350 1360 1370 1380 1390 1400 1410 1420
matched links:
Pere Tarrés Alberg Youth Hostel

www.peretarres.org/alberg ■ Opened 24h / No curfew ■ 240 beds (our rooms have 2, 6 and 8 places and are equipped with in-suite bathrooms) ■ New building without architectural barriers and with adapted rooms for wheelchairs ■ Bar-Restaurant (breakfast, lunch, dinner, picnics) ■ Adaptable menus for sportive groups. Vegetarians, coeliac, muslim menus ■ Rest / service area with snack machines and big TVprojector with International channels ■ Free internet access for our guests ■ Large outdoor terrace with tables and chairs ■ Ping-Pong area ■ Air conditioning ■ Lift / Elevator ■ Meeting Rooms ■ Large Kitchen with facilities ■ Luggage Room Free ■ Linen included in our prices ■ Laundry ■ Individual Security Lockers ■ Parking available ■ Tourist information about Barcelona
Sagres Natura Surf Camp Portugal

Rua Mestre Antonio Galhardo
8650-384 Sagres
Portugal

Sagres Natura Surfcamp was developed to promote outdoor sporting activities that can be practised in and around Sagres. Specialising in surfing, Sagres Natura has something to offer everyone whether you're new to the sport and looking to learn, or if you're experienced and just looking for some great,consistent waves. Situated on the south-west tip of Portugal and protected by environment laws, Sagres is surrounded by beautiful, unspoilt beaches, making it an ideal base to surf from
1 Tribo do Mar - Peniche
Tribo do Mar offers accommodation in Consolaçao, at the the south side of Peniche. Ideal for surfers: reefbreaks and Supertubes within walking distance. 20 more spots within 15 min driving. Surfguiding, surfclasses and boardrental.
http://surfschooltribodomar.com
Baan Pra Nond B&B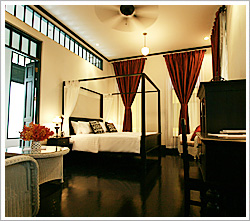 We're a quaint little B&B in the center of Bangkok. I've very recently renovated and converted my grandfather's 70 years old Thai-Colonial style house into a B&B. We've only been opened for about 3 months. Number of Rooms: 9
Bling Bling Hostel Firenze

Via San Gallo 58
50129 Firenze
Italy

The Bling Bling Hostel is a cosy place, 10 minutes on foot from the Main Railway Station. Offers cheap and comfortable singles, twins and triples.
Flying Pig City, The

Nieuwendijk 100
1012 MR Amsterdam
Netherlands
Flying Pig Uptown

Vossiusstraat 46
1071 AJ Amsterdam
Netherlands
Youth Station Hostel

Pensione Ottaviano

The Pensione Ottaviano Hostel is the Longest Running Hostel in Rome today. Established in 1956, the Hostel has seen generations of backpackers. A variety of services, including a multi-lingual staff and free internet help to make Hostel Ottaviano a must when traveling through Rome, Italy.
Twin Cities Hostel

223 viale leonardo da vinci
00144 Roma
Italy

TwinCities Youth Rome Hostel is situated in the youngest borough of Rome. The location of the youth hostel is strategical for both nightlife and visiting ancient Rome. The nearby University campus makes the neighborhood very crowded with bars, cheap restaurant and relaxing parks - within walking distance. On the other side you can start visiting Rome by seeing Saint Paul Basilic or Piramid, Circus Maximus and Colosseum walking distance, Rome Colosseum all site you can reach by walking distance or B line Metro. TwinCities Hostel with simple and modern furnishings and the friendly young staff - Minnesota - make this hostel a good accomodation place to spend your vacation alone or with friends. The hostels' staff is always open to meet the customers' requirements, check in and the check out are very quick and NO CURFEW!! Singles rooms, doubles room, twins rooms, 2 bathrooms, and a shared modern kitchen and wireless internet access, make us proud of our service. By the way, you can reach the Vatican city with just seven subway stops. If you are interested, our TwinCities Hostel also has a connection with one of the most interesting clubs in Rome that shows all International Sports. So it's easy for you to watch any of your sporting games which sometimes will keep you from traveling, and if you want to experience Rome nightlife we know where to go. From Rome Termini we are only 13 minutes away and we provide shuttle on your request!! You are welcome to stay in Rome