you are here: location >>
you can go to: GENERAL

(11)

Africa

(14)

America

(141)

Asia ; middle East

(80)

Australia ; Oceania

(7)

Eastern Europe ; Russia

(351)

Western Europe

(800)

World

(23)
you are looking for: information >>
get more precise: accommodation

(1253)

cityinfo

(131)

transportation

(81)
result pages: 0 10 20 30 40 50 60 70 80 90 100 110 120 130 140 150 160 170 180 190 200 210 220 230 240 250 260 270 280 290 300 310 320 330 340 350 360 370 380 390 400 410 420 430 440 450 460 470 480 490 500 510 520 530 540 550 560 570 580 590 600 610 620 630 640 650 660 670 680 690 700 710 720 730 740 750 760 770 780 790 800 810 820 830 840 850 860 870 880 890 900 910 920 930 940 950 960 970 980 990 1000 1010 1020 1030 1040 1050 1060 1070 1080 1090 1100 1110 1120 1130 1140 1150 1160 1170 1180 1190 1200 1210 1220 1230 (1240) 1250 1260 1270 1280 1290 1300 1310 1320 1330 1340 1350 1360 1370 1380 1390 1400 1410 1420
matched links:
htpp//:www.youthhostelrosario.com.ar

Pte. Roca 1051
2000 Rosario
Argentina

La Casona de Don Jaime is the best place for you to stay in Rosario. Located Downtown, just meters away from the city´s main attractions and just a few blocks aways from the Paraná River. We are the first and only International Youth Hostel of Rosario. It is built in an old last century house that keeps the family warmth and spirit. Hosted by young travelers that know exactly what you are looking for in a hostel. La Casona´s staff is looking forward to make your stay a great experience, so you feel safety and comfortable. Like at home.With us you will get to know the city like no one else. From urban escapades to alternative tourism explorations. Kayaks Horseback riding Cabins Sky Diving City Tour River Expeditions Trecking Fishing Safari Bird Watching Photo-shooting Safari Water Ski Wind Surf Pic- nics Football - Stadium sundays All this action starts at La Casona, so here you will be just in the right place
ReiseLux.com - Last Minute Urlaub
Offers holidays including last minute holiday deals, package holidays, cheap holidays, cheap flights and accommodation. Weltweit Last Minute, Hotel, Reise, Flug, Urlaub, Mietwagen und Ferienhaus Angebote von allen renommierten Reiseveranstaltern und Airlines.
http://www.reiselux.com
Amans Paradise Hotels

Maguruwe/Ndafu street
255 Dar es salaam
Tanzania

We are situated within Dar es salaam City,along Maguruwe/Ndafu street,at Mbezi Beach,close to Indian ocean. we are specialising into Accommodations for short and long term stay. We accommodat students,volunteers,Tourist,for cheap price.
Elements Hostel

26A , Wallace Garden . 3rd Street ,
600034 Chennai
India

Elements Hostel is the most Luxurious, affordable, safe and comfortable place to stay in Chennai for Backpackers and any other kind of travelers. The hostel is located in the tourist, commercial and financial area better known as "Nungambakkam", one of the most dynamic and exciting areas in the City, with a remarkable cosmopolitan atmosphere. Elements Hostel is your ideal replacement for an expensive Hotel.
P?o de A?ucar Bed & Breakfast

Rua do Almada,262
4050-032 Porto
Portugal

Pão de Açucar offers 51 spacious and comfortable guest rooms with a private bathroom, air-conditioning, mini bar and hairdryer, and also 6 suites, and 6 rooms with private terrace and a magnificent view over the Town Hall. Each guest room is equipped with direct outside telephone line, a mini-bar and satellite TV. Services: continental-breakfast included in the room rate, room service, laundry, Wi-Fi Lan Internet Access, fax, bar, rent-a-car, automatic wake-up calls and parking facilities. We accept Visa and Mastercard credit cards.
Hotel Neos Olympos

38 Th. Deligianni Str.
10438 Athens
Greece

Hotel Neos Olympos is situated in the heart of Athens in front of metro and the Central train station. We offer 30 clean spacious rooms for 1,2,3 or 4 persons most of them with balcony, many with private bathrooms and others with shared facilities but ALL with central heating, air condition and tv. You can choose between rooms and dormitories! The reception is open 24 hours per day, 365 days per year to help you. We are close to Metro, Central railway station, Flea Market, Acropolis(4 metro stops), Plaka , Internet Cafes, Greek Taverns, shops, Laundry, Travel agency, Night clubs. The traditional building established in 1938 is recently (2004) fully renovated but keeps its traditional character. Come to feel the friendly remarkable atmosphere! We also offer: Free! Fresh sheets! Free left luggage! For as long as you are around the city or the island. Free hot showers! 24 hours per day. Free Safe! For your valuables. Information! About your next move, how and where to go. HOW TO FIND OUR HOTEL. Come out of the Larissa-Europe station, turn right, walk 100m and there you are. From piraeus catch the metro to Omonia. From Omonia catch the red line metro to Larissa station. From Airport catch the suburban to Larissa train station. From any other arrival point or about any other question, call us to give you directions for the cheapest and more convinient way to the Hotel. Enjoy Greece!
Humboldt Tours Berlin, www.humboldttoursberlin.com
Humboldt Tours Berlin offers historical walking tours from local doctoral students of German history, and visiting scholars from the American Fulbright Program. -Also check out the Wild East Pub Crawl in Kreuzberg and Prenzlauer Berg!
http://www.humboldttoursberlin.com
North Hotels - An Economical Place To Stay in Hano

5B Tam Thuong Street
10000 Hanoi
Vietnam

Welcome to North Hotel No. 2 in Hanoi, Vietnam ! North Hotel established since 1990, has two hotels, North Hotel No.1 and North Hotel No.2. They are located in Hanoi's Old Quarter, very near Hoan Kiem Lake, in the city's historic centre. All our hotel rooms in North Hotel No. 2 are very well equipped with standard wooden furniture : big beds, wardrobe, table with chair; air-conditioner; private bathroom with hot/cold water inside; cable TV (international channels such as TV5, HBO, CNN, MTV, ESPN, STARSPORT etc), refrigerator; IDD telephone. Our North Hotel N.2 provide other services as follows : - Booking organized tours : Hanoi City Tour, Tour to Ha Long Bay-Cat Ba Island, Hoa Lu-Tam Coc, Mai Chau, Sapa - Bac Ha; - Everyday Open Tourist Bus to South Vietnam stopover many interesting places such as Ninh Binh, Hoi An, Hue, Dalat, Nha Trang and Sai Gon and other trips on the guest's demand (Note : to book any tour ticket at our hotels our guest will get the special discounted prices and usually cheaper than at any tourist cafe or offices) - New VISA applications or VISA extentions; - Booking or Re-confirmation Airlines and Train tickets to any where in Viet Nam, as well as from Viet Nam to other countries; - Car or Jeep, Moto bike and Bicycle rentals; - Laundry service; - Luggage storage, Free of charge; - Money exchange and Credit Cards or Traveller Cheque are acceptable; - Medical consultation; - Internet Phone to any countries at very cheap rates; - IDD telephone and FAX Service; - 24 Hour Check - In and 24 Hour Reception. Free ADSL High speed internet service is also available and free cups of lemon juice or tea are provided for thirsty guests. We can arrange also the transportation from Hanoi International Airport to our hotels, at the local rates, on notification of flight details : Estimated Arrival Time, Flight number, Name of Airlines Company, From Where to Hanoi. The friendly atmosphere of North Hotel No. 2 have made this place a favourite with backpackers in Hanoi, Vietnam. And also there is very comfortable place for those who need a place to stay for study or short time working in Hanoi. We at North Hotel No. 2 are very happy to welcome guests to of our hotels and wish them a nice trip to Vietnam. Our North Hotel No. 2 has been recommended in the new editions of Rough Guides Book, Lonely Planet and some other foreign guide books such as Guide du Routard. We offer a warm welcome to North Hotel No. 2 !
Mr Gomez Hostal

Guest House-Budget Hostel & Tours services. Lowest rates. Book by internet or by phone!
Baikal Adventures Travel Centre
Baikal Adventures - Travel Centre, ecological and adventure travel at Lake Baikal, in Buryatia, Mongolia, Ulan-Ude. The detailed information about Lake Baikal region for travelers. Different ecological activities such as mountaineering, hiking, water sports, horseback riding and biking tours. Photo and ethnographic tours in the Lake Baikal region.
http://www.baikaladventures.com
budget accommodation
self-catering kitchen
free wireless access
backpacker atmosphere!

just one stop from the
main train station.

To send us a more detailed request or to make a booking for a group please send a simple mail (info@helterskelterhostel.com)

You can also call us in Berlin:
0049 (0) 30 280 44 99 7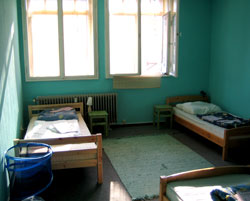 tiki and beach



Helter Skelter Hostel
Kalkscheunenstr 4-5
10117 Berlin

Weißbach & Schwarz
GmbH & Co KG
Johannisstr 2
10117 Berlin
Deutschland

Mitglied des



AGB
Terms & Conditions
Impressum