you are here: location >>
you can go to: GENERAL

(11)

Africa

(14)

America

(141)

Asia ; middle East

(80)

Australia ; Oceania

(7)

Eastern Europe ; Russia

(351)

Western Europe

(800)

World

(23)
you are looking for: information >>
get more precise: accommodation

(1253)

cityinfo

(131)

transportation

(81)
result pages: 0 10 20 30 40 50 60 70 80 90 100 110 120 130 140 150 160 170 180 190 200 210 220 230 240 250 260 270 280 290 300 310 320 330 340 350 360 370 380 390 400 410 420 430 440 450 460 470 480 490 500 510 520 530 540 550 560 570 580 590 600 610 620 630 640 650 660 670 680 690 700 710 720 730 740 750 760 770 780 790 800 810 820 830 840 850 860 870 880 890 900 910 920 930 940 950 960 970 980 990 1000 1010 1020 1030 1040 1050 1060 1070 1080 1090 1100 1110 1120 (1130) 1140 1150 1160 1170 1180 1190 1200 1210 1220 1230 1240 1250 1260 1270 1280 1290 1300 1310 1320 1330 1340 1350 1360 1370 1380 1390 1400 1410 1420
matched links:
Harbour Inn

Jenny and Manzoor welcome you to newly opened Harbour Inn Bed and Breakfast 'Where travel and leisure blend together'. Pamper yourself at our luxury B&B here in Beijing at very affordable prices. Harbour Inn is a Chinese traditional Bed and Breakfast located in the heart of Beijing just minutes way from the mysterious Bell Tower, Drum Tower, Ditan Park and Beihai Park. Where you can enjoy some quality time with your friends. Harbour Inn offers a very warm and friendly atmosphere for Beijing tourists and visitors. Coming here you'll forget about all your problems, enjoying the relaxing atmosphere of the Chinese hutong. We offer a variety of single, twin, double, triple, quad rooms and dormitory beds, en-suite and with sharing facilities, equipped with color TVs, air-conditioning, hot & cold shower with towels and toiletry. Tea or coffee maker. All the rates include continental /Chinese traditional breakfast, taxes and service. In the hotel you'll find a comfortable lounge where you can relax late in the evenings with a drink or a cup of Chinese tea or coffee. If you are looking for comfortable accommodation in the centre of Beijing City which is convenient, quiet and great value for money, look no further than Harbour Inn. In Beijing, you will be spoilt for choice with everything available from grand, internationally famous hotels to a small hotel. Many visitors prefer to stay in economical good value B&B/ hostels / hotels, leaving more of their budget available to enjoy Beijing's sights, shows and events. For a fun, lively and great value place to stay and party in Central Beijing you can't beat the Harbour Inn. Guests at this Bed and Breakfast get to enjoy the benefit of being located above a traditional Chinese Hutong. This atmospheric Beijing tea is a great place to soak up a real taste of the Centre. You can relax with a drink or enjoy Chinese culture. Staying at The Harbour Inn you will see a completely different side of Beijing life, which contrasts dramatically with that of Hutong. What makes us different from other hotels? -Outstandingly Good Value. -Excellent Location. -Free Breakfast. -Superb Cleanliness. -Internet Access. -travel information of Beijing and beyond -general assistance in English -flight confirmation -postcards and letter sending -interpretation -bicycle hire -car hire -laundry -C D burn -Tours and activities -trips to the Great Wall at all sections including the Great Wall at Mutianyu, Badaling, Simatai and Jinshanling. -Beijing City Tour (Forbiden City & Tian'anmen Square, Summer Palace and Temple of Heaven) -Hutong Tour -Beijing Opera, Chinese Acrobatics and Kungfu show Tickets booking of train, flight (both international and domestic) and ferry. AIRPORT PICK-UP In order to get to the hotel from the airport without hassle, we provide a very reliable airport pick-up service taking you all the way to the hotel without any problem.
Pension Hotel Luisenstadt

Köpenicker Str. 56 / 57
10179 Berlin
Germany

Luisenstadt, die Pension in Berlin Mitte. Sehr preiswerte Pension nahe dem MOMA, Zimmer mit Du,WC buchen Sie ab 16 Euro p.P. nahe Alexanderplatz in der historischen 'alten Mitte' Berlins
Villa Babilla Hostel Kolumbien

CALLE 20 # 3 - 40
00000 Santiago de Tolu
Colombia

We are Laffi (German) and Alexa (Colombian), After of walking much by the planet, like globetrotters, knowing a lot of countries, people, cultures, races and languages, we decided to stop a time and to throw roots in some place of the world, with the Idea to construct the Guest House that We always we wanted to find in our trips . A Place that, even been confortable, clean, with a nice design, a cool atmosphere and Service, Would had an attainable tariff… Is indeed why the success to Villa Babilla, it is sounding of mouth in mouth, because we took pains in offering ours guests, what we would liked to receive . We found in Tolu , Sucre, Colombia, a little town , not promoted, but nothing less than the Meeting Point and departure Port to Excursions to the Paradise called Gulf of Morrosquillo, surrounded by paradise Islands in the Archipelago of San Bernardo, 45 minutes far way by Boat, Mud`s Volcanos, 30 minutes far away by bus, Bog, Manglar and the most extensive biodiversity of fauna and flora, 10 minutes far away by bus. Villa Babilla is a Place of Lodging for People, who wishes a vacations season in Colombia, in different atmosphere, far away from typical racket of the coast, vallentos and disorder.
Bodega Hotel

133 Hang Bong - Hoan Kiem - Ha noi
00844 Hanoi
Vietnam

BODEGA HOTEL "The place to stay in Hanoi" Ideally located in the heart of Hanoi 's old quarter, combined with warm, friendly, personalized service and modern amenities, Bodega hotel makes it the perfect choice for both business or leisure traveler, BODEGA Hotel is also a backpacker accommodation. Considered a most reliable destination for any tourist or businessperson, it takes just takes 35 minutes from the Noi Bai Airport, 05 minutes walk to the Hoan Kiem Lake as well as a beautiful area to relax and visit night markets in the 36 ancient streets. Although our hotel is situated in the crowded old streets, our hotel rooms are very quiet at night. The deluxe French 19th century finished rooms are also noise resistant. Presently we are delighted to provide any tour information's in the all regions of Viet Nam, beside that we could offer many different packaged tours from the north to the south. Especially, the independent or group tours to Ha Long and Sa Pa are available everyday. * We also can arrange a visa to Lao or Cambodia and extend your Vietnamese visa. * We have the ability to book the air/ train tickets to Lao, Cambodia and other famous domestic locations, such as Hue, Hoi An, Nha Trang, Da Lat, Mui Ne, Sai Gon and of course you can travel there by open bus. * In order to satisfy your needs when staying in Viet Nam , we possess several different motorbikes, bicycles and cars for rent. After a pleasant day of touring, you may feel a little bit tired, so you will be served a cup of refreshing tea or coffee free of charge. Please come to discover our motto: "BODEGA HOTEL, YOUR FAMILY IN VIET NAM" We guarantee that the above-mentioned slogan will reflect our real services. Complementary services: * Restaurant Service. * Travel Tours Arrangements * Flight / Train reconfirmation and Tickets Booking Services. * Bike , Motorcycle, Car Rental Service * Foreign Currency and Credit Card Exchange * Visa Service * Safety deposit boxes * Laundry & dry-cleaning Services * Babysitting, Baby cots Service. * Transport Service and Baggage storage. * High Speed Internet & Email. * Airport Transfer:US$10/way for a 4 seats car,US$15/way for a minibus. * Hotel Reservation Service: special price for the clients. We are new hostel then we offer the following special promotion from 1st 2007 to 1st June 2007 10% off on laundry services Free: Airport pick up with 3 nights stay ( booking ) Free: Pick up from the Bus or Train station Free: 30 minutes local phone call per day Free: Tourist Map of Hanoi Free: Bicycle for one day to travel around Old Quarter We are looking forward to seeing you in BODEGA HOTEL
http://duygupension

duygupension 2.karagözler ordu cad no:54
48300 fethiye
turkey
Backpackers Paradise hostel

4200 Century BLVD
90304 Los Angeles
USA

Backpackers Paradise hostel is the cheapest hostel in Los Angeles and the only hostel with a pool.
salinainn hostel

Salinja 174
5999 Curacao
Curacao

This cozy apartment hostel complex is located at the heart of one of the most important centric places of the island (Saliña). It is at just 5 minutes from the main center Punda, town beaches and the Curacao Free Zone. It is also strategically surrounded by shops, shopping galleries, 3 important discothèques, restaurants, supermarkets and bus-stops which easily connect you to any point of the island.
Mongolian Temuujin Guesthouse and Tours

Suhbaatar District, 40,000, Bld.:45
12000 Ulaanbaatar
Mongolia

Temuujin's Guesthouse offers the best service and the cheapest price. It is pleasure to let you know that friendly family's home furnished with latest model and decoration is always open to dear travelers and guests. The Guesthouse is situated in the heart of Ulaanbaatar and is surrounded by Mongolia 's main reputable commercial and cultural centers, such as the Nomin Supermarket (State Department Store) and other reputated foreign cuisine restaurants. By visiting to Temuujin's Guesthouse as a guest, you will feel safety environment, healthy condition, reasonable prices, quality services, business goals, enjoyable evening and unforgettable memories.
Apartments-Hotels ROSITZA,SOFIA BULGARIA

Rositza str.
1000 Sofia
Bulgaria

Apartments-Hotels ROSITZA,SOFIA BULGARIA Apartments in the very centre of Sofia for short or long term rent.Attractive prices.
budget accommodation
self-catering kitchen
free wireless access
backpacker atmosphere!

just one stop from the
main train station.

To send us a more detailed request or to make a booking for a group please send a simple mail (info@helterskelterhostel.com)

You can also call us in Berlin:
0049 (0) 30 280 44 99 7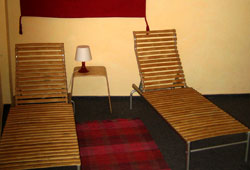 relax in the hostel



Helter Skelter Hostel
Kalkscheunenstr 4-5
10117 Berlin

Weißbach & Schwarz
GmbH & Co KG
Johannisstr 2
10117 Berlin
Deutschland

Mitglied des



AGB
Terms & Conditions
Impressum