aktueller Ort: location >> America >>
Ort präzisieren: GENERAL

(3)

Argentina

(55)

Bolivia

(2)

Brasil

(12)

Canada

(14)

Chile

(9)

Colombia

(2)

Costa Rica

(3)

Curacao

(1)

Ecuador

(2)

Mexico

(6)

Mexico

(6)

Peru

(3)

Puerto Rico

(1)

South America

(3)

USA

(15)
aktueller Inhalt: information >>
Inhalt präzisieren: accommodation

(128)

cityinfo

(9)

transportation

(7)
Ergebnisseiten: 0 10 20 30 40 50 60 70 80 90 100 (110) 120 130 140
gefundene links:
Andes Hostel

Andes Hostel is located in Barrio Bellas Artes, one of the trendiest, most beautiful, and best located neighborhoods in downtown Santiago! The neighborhood's architecture, which combines both classic and modern styles, the designer cafes located in each corner, the Bellas Artes Museum, the Parque Forestal, and the youthful environment, make it a really fun place, where you will be entertained 24 hours a day, 7 days a week! All of these features are reflected in Andes Hostel's design, which combines a modern trendy style with the classic structure of a beautiful 1940's building.
New York Boutique Hotels
We are the New York's largest Directory of Boutique Hotels and Inns. Since 1998 we have been providing lodging services over the Internet. New York Boutique Hotels offers quality accommodations handpicked by our staff members. All of our properties have been AAA/Mobil TRAVEL Guide rated
http://newyork.boutiquehotelsonline.com
Waikiki Beachside Hostel

2556 lemon rd
96815 Honolulu HI
USA

Waikiki Beachside Hostel is the largest of the Hawaii hostels. We offer excellent service, facilities and most importantly, a unique and fun atmosphere for exploring Hawaii while meeting new friends from around the world.
Guide to Salvador Bahia Brazil
guide, GUIDE, salvador, SALVADOR, bahia, BAHIA, brazil, BRAZIL, guide, GUIDE, salvador, SALVADOR, bahia, BAHIA, brazil, BRAZIL, guide, GUIDE, salvador, SALVADOR, bahia, BAHIA, brazil, BRAZIL, guide, GUIDE, salvador, SALVADOR, bahia, BAHIA, brazil, BRAZIL, guide, GUIDE, salvador, SALVADOR, bahia, BAHIA, brazil, BRAZIL, guide, GUIDE, salvador, SALVADOR, bahia, BAHIA, brazil, BRAZIL, guide, GUIDE, salvador, SALVADOR, bahia, BAHIA, brazil, BRAZIL
http://www.marcioguide.com
Tangoin Hostel Bariloche Argentina

12 de Octubre 1915
8400 Bariloche
Argentina

Welcome to the most popular, biggest, comfortable & funny hostel in Bariloche. The best place to meet new people and friends Comfortable, Funny, chip, clean y Full services Rooms Singles, double twins and double bedrooms, triples and dorms. Breakfast Included, Free internet access, 24 hs, Free sheets and blankets and room service. Pool Table Cinema Room and…a lot of fun!!! This hostel offers the best atmosphere and service at the lowest price. Nice garden and barbecue: so that you can have/eat a delicious barbecue and enjoy the best meat in Argentina. Free Lockers in the dorms for your belongings and safe box. Bar, Pub & Restaurant (The best happy hours in Bariloche and the best parties) 24h reception, no lock-out, no curfew, Check in 24 h a day. Hostel bookings and info for your next destination and information desk. Common rooms with board games, ping pong table, pool table and video games. Kitchen for guests. Laundry service. All rooms whit Bathrooms and Showers. HI card with reduced cover for bus tickets, restaurants, clubs, pubs, etc. And all of you can enjoy excursions, Rafting, trekking, four trax, rappel, mountaineering, biking, etc. are the perfect blend with our horseback tours. We highly recommend them to those with spirit for adventure. We also host regular events such as the famous Tangoinn Karaoke, DJs spinning out the tunes and of course live sports on our large televisions. For more information, check out the "News & Updates" section on the main page of the tangoinn hostel site. In short, The Tango Inn is the best place to begin a great adventure in Patagonia.
Rooms for rent in Buenos Aires

Brasil 409
1414 Buenos Aires
Argentina

Furnished rooms for rent in Buenos Aires in a fully furnished flat with young flatmates.
Sandanzas Hostel

Balcarce 1351 - San Telmo
C1153AAC Buenos Aires
Argentina
Tupiniquim Hostel Rio de Janeiro

Rua S?o Manuel, 19 (esq. Rua da Passagem) - Botafo
22290-010 Rio de Janeiro
Brazil

Tired to be a regular backpacker ?? ... an alternative hostel for alternative persons in Rio de Janeiro - Brazil ... near everything, safe, clean ... just different ... English - Español - Português - Français - Italiano - ????? Nada mejor que un hostal que habla español, no ?? rien c´est meilleur q´un auberge que parle français, n´est pas ?? Nada melhor que um albergue que fala bom e velho brasileiro, né ?? Niente è migliore qu´un ostello que parla italiano, no ?? ???? ???? ??? ?????? ????? ?????. ???? ?? Tupiniquim Hostel is located in an old-1938-colonial-portuguese-style big house on a very quiet street at the heart of Botafogo neighborhood, 10 min. away from the Sugar Loaf and Copacabana beach ... the famous Christ the Redeemer can be seen from some of our windows !! But you see, the core of a hostel is not a beautiful and charming house (like ours), or plenty Super-Duper hot showers (which we have, 7 in fact) or any of those welcome features ... the core is the people ... in this case the interaction of us, your brazilian hosts, and you ... we are here because of you ... attention to detail and quality in every possible human aspect ... command us ... - multi-language staff: Portuguese, English, Spanish, French, Italian, Hebrew ... even a bit of German ... did I forgot any ?? - tired of waiting to take a shower ?? we have 7 fully-independent bathrooms and toilets (1 for each 6 persons) - gas-fueled HOT Showers (not those cheap electric ones that get barely warm) - spacious rooms with big big windows for maximum ventilation - solid-noble-wood bunks with plenty of space (1 meter) between each bed - 17 cm height and 150 kg resistant confortable brand new cushions (and not those cheap and dirty ones you see on many hostels) - security lockers big enough for your backpacks (1 x 1 x 0,50 meters each) - 24 hours broadband internet (8 Mps) access in brand new Apple Macintosh Computers (virus free) - old fashion vynil gramophone to feel & hear the old Rio - multicultural library so you can understand Rio de Janeiro and Brazil - radical tours: rock climbing at the Sugar Loaf, hiking at the Tijuca Forest, hang gliding at Pedra Bonita, etc ... - cultural agreements such as: volunteer for a day on the favelas, getting to know capoeira and samba ensembles in real live situations, etc ... - central location from all major attractions: - 10 min. walk to Copacabana Beach and the Sugar Loaf - 10 min. bus or subway to Lapa and all the Historical Downtown of Rio - 15 min. bus to Lagoa and the gorgeous Botanical Garden - 20 min. bus to the Statue of Christ the Redeemer - 20 min. bus to Ipanema Beach - 25 min. subway to the Maracana Stadium (temple of football in Rio) - 30 min. bus to the Central Bus Station (Rodoviaria) - 40 min. bus or taxi to the International Airport (Galeao) - 24 hours reception - free coconut on arrival !! - double private rooms (for couples or groups up to 4) - ensuite / family full-featured apartment (50 meters from Copacabana Beach) - free bedsheets and blankets - free brazilian style breakfast (08:00 to 12:00) - fully equipped backpackers kitchen (2 fridges and stoves) - tight-controlled safe box and storage room - bar and chilling area with full cable TV and full featured home theater - plenty of space at our courtyard with it's BBQ area and hammocks - would you like to play ping pong, table football, basketball, volleyball, football or frescoball ?? we borrow you the stuff ... - lots of the most popular table games such as: chess, backgammon, checkers, risk, domino, cards, etc ... - towels, bikes, surf and body boards for rent - airport and bus station pickup - powerful fans on all rooms - telephone / fax facilities - all the travel info you might possibly need - car parking available - backpackers laundry service - bureau de change - taxes included - no minimum or maximum stay - no lockout, deposit or curfew
htpp//:www.youthhostelrosario.com.ar

Pte. Roca 1051
2000 Rosario
Argentina

La Casona de Don Jaime is the best place for you to stay in Rosario. Located Downtown, just meters away from the city´s main attractions and just a few blocks aways from the Paraná River. We are the first and only International Youth Hostel of Rosario. It is built in an old last century house that keeps the family warmth and spirit. Hosted by young travelers that know exactly what you are looking for in a hostel. La Casona´s staff is looking forward to make your stay a great experience, so you feel safety and comfortable. Like at home.With us you will get to know the city like no one else. From urban escapades to alternative tourism explorations. Kayaks Horseback riding Cabins Sky Diving City Tour River Expeditions Trecking Fishing Safari Bird Watching Photo-shooting Safari Water Ski Wind Surf Pic- nics Football - Stadium sundays All this action starts at La Casona, so here you will be just in the right place
günstig übernachten
Selbst-Versorger-Kücher
WLAN kostenlos
backpacker atmosphäre!

nur eine Station vom Hauptbahnhof entfernt.
schnelle Anfrage

Um uns eine detaillierte Anfrage zu senden oder eine Gruppenreservierung zu machen, schreibt einfach eine formlose E-mail (info@helterskelterhostel.com)

You can also call us in Berlin:
0049 (0) 30 280 44 99 7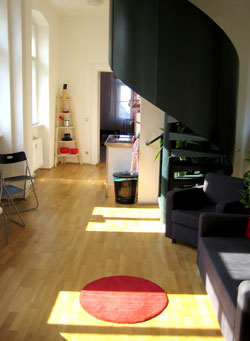 Mädchenzimmer



Helter Skelter Hostel
Kalkscheunenstr 4-5
10117 Berlin

Weißbach & Schwarz
GmbH & Co KG
Johannisstr 2
10117 Berlin
Deutschland

Mitglied des



AGB
Terms & Conditions
Impressum