aktueller Ort: location >> America >> Chile >>
Ort präzisieren: Santiago

(2)

Temuco-Conguillio

(1)

Valparaiso

(3)
aktueller Inhalt: information >>
Inhalt präzisieren: accommodation

(9)

cityinfo

(1)

transportation

(1)
gefundene links:
casa verde limon

subida cumming 196
- Valparaiso
Chile

The house, recently restaured, was built in 1925. It is located in a great central location, in Subida Cumming at the feet of Alegre and Concepción Hills, close to restaurants, bars, Victoria railway, Ex-carcel Cultural Center and 2 blocks from downtown We have 8 double rooms and 1 quad room (It's not allow to set as a dorm in this web site) with comfortable beds and shared bathrooms. Please, confirm your arrival time. The Reception is open from 8 am to 11 pm
Hotel Puerto Valparaiso

Chacabuco
2362 Valparaiso
Chile
Angel Hostal

Cumming 160 Cerro Carcel
- Valparaiso
Chile

located in one of the best sectors of the city
kasatobalaba

Kasatobalaba is a friendly and familary hostel and residence. Our house is situated in the best area of Providencia and only 2 minutes to the subway and public transport outside the house. We recive chilean and foreign student for days, weeks or months . Kasatobalaba is located in San Pio X 2441; Providencia, one of the best and safest place to live in Santiago. Near the house you have supermarkets, banks,cinemas, pub, restaurants, etc... and you have a nice place to practice some sport as run o ride bycicle.Staying in Kasatobalaba is the best choice for students wishing to share a youthful environment where they will find a perfect place to study and also the opportunity to meet students from Chile and all over the world. Our house are provided of 13 rooms of diferent sizes (single or double)and sharing a common kitchen,furnish for cooking , and toilets. Internet access are included in the price. We have swimming pool. Amenities internet free; wash service; clean service; internet al rooms(optional); travel agency.
http://www.adoos.cl
Comunidad online de intercambio. Publica tus avisos clasificados gratis.
http://www.adoos.cl
casa margouya chile

sta rosa 318
X Puerto Varas
Chile

a full colored wooden house , down town location , near by the llanquihue lake. 5 rooms , full equiped kitchen , a central room with table games , music , books. tourism information , tours and out door activities , a great place to meet travellers
http://www.adelayhelmut.com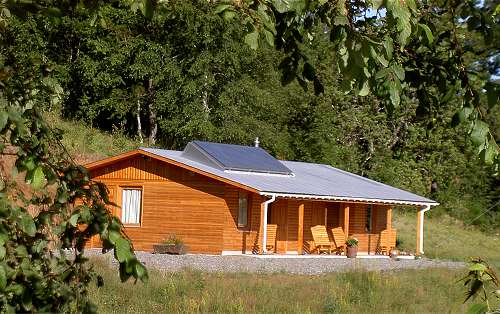 About 5 km from the paved road to National-Parc Conguillio, surrounded of nature is living the Genkinger-Calfín-family. On a farm of 25 has Adela (mapuche) and Helmut (suabian) are running a small biological agriculture with cattle, gees, chicken and honey-bees. They are expecting visitors, who would like to live in their new guesthouse nearby or who want to try in the Hosteria (small restaurant) a suabian piece of cake or a piece of "Hefezopf" (suabian sweet yeast-bread) with a cup of coffee and relax on the chilean-contryside. Matze, the small sunshine of the Hosteria is telling the latest news to the visitors, either in suabian or in Spanish. Adela prepares with a lot of love Chilean and German specialities. Combining the two cultures there are always new creations to try, which are converting ordinary meals in delicious eating-experiences. Adela is selling almost everything you may need, many neighbours are using her stock of goods as well.The guesthouse with a marvellous view to the snow-capped volcano Llaima is destinated from single-travellers to whole families. It is built almost entirely of wood. On the roof, a solar-panel is taking care of the ecological-preparation of the hot water. When the sun is covered by clouds and it should be necessary, there is enough energy in the gas-tank, which is providing the central-heating, which is creating a warm atmosphere even in cold winter-days, using modern technology. You will feel like in German hotel looking in the comfortable bath-rooms. There are a big sink, water-saving-wall-mounted toilet and a shower-corner with a radiator, which dries the towels as well. In every apartment is built in a small kitchen. Our Backpacker is equipped more basic and cheaper. For further details please have a look on our homepage
Hostal de Sammy

Toesca 2335
837-0268 Santiago
Chile

My name is Charles Pankow and I started Hostal de Sammy with my best friend Sammy, an Australian Cattle Dog mix that I brought with me from the USA. Since opening of the hostel last year, I lost Sammy to cancer but his name and spirit lives on in the hostel. I like to say that staying at the hostel is much like staying at a friend's house (albeit a friend that charges you a little) but offers you a comfortable place in which you can rest after a long trip. The best part is that everything is included in the price with a great free breakfast, pool table, table football, at least 4 actually working computers with internet, and a living room with hundreds of movies to choose from. Sammy is you best friend in Chile.
Andes Hostel

Andes Hostel is located in Barrio Bellas Artes, one of the trendiest, most beautiful, and best located neighborhoods in downtown Santiago! The neighborhood's architecture, which combines both classic and modern styles, the designer cafes located in each corner, the Bellas Artes Museum, the Parque Forestal, and the youthful environment, make it a really fun place, where you will be entertained 24 hours a day, 7 days a week! All of these features are reflected in Andes Hostel's design, which combines a modern trendy style with the classic structure of a beautiful 1940's building.
günstig übernachten
Selbst-Versorger-Kücher
WLAN kostenlos
backpacker atmosphäre!

nur eine Station vom Hauptbahnhof entfernt.
schnelle Anfrage

Um uns eine detaillierte Anfrage zu senden oder eine Gruppenreservierung zu machen, schreibt einfach eine formlose E-mail (info@helterskelterhostel.com)

You can also call us in Berlin:
0049 (0) 30 280 44 99 7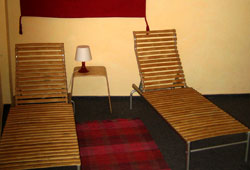 ausruhen



Helter Skelter Hostel
Kalkscheunenstr 4-5
10117 Berlin

Weißbach & Schwarz
GmbH & Co KG
Johannisstr 2
10117 Berlin
Deutschland

Mitglied des



AGB
Terms & Conditions
Impressum